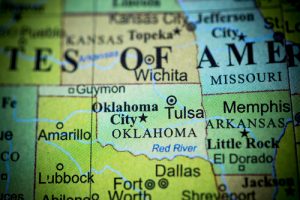 Regulators say 1.6 million pounds of computers and monitors were recycled through the Oklahoma state program last year, the lowest weight in six years.
A steep drop from 2.7 million pounds a year earlier was likely due to declines in manufacturer-sponsored collections, as well as an evolving stream of lighter end-of-life devices, according to the 2016 program report. The document was provided to E-Scrap News by the Oklahoma Department of Environmental Quality (DEQ), which oversees the program.
The Sooner State is one of 25 states to have some form of extended producer responsibility (EPR) law for electronics. Compared to many others, however, Oklahoma's computer recycling program is limited in scope and requirements. It includes only desktop and laptop computers and monitors, not TVs, and the state doesn't set annual collection and recycling targets for manufacturers.
Under the program, which started in 2009, manufacturers are required to submit and carry out a plan offering "reasonably convenient" collections that are free to consumers. They must confirm the collected devices will be recycled, not sent to disposal. Additionally, they pay annual fees and provide data each year to the DEQ. Providing a mail-in program, permanent drop-offs or collection events are all ways manufacturers can comply with the law.
Currently, all registered manufacturers are providing mail-back programs, according to the DEQ. In addition, a few are providing drop-off locations, but none have held a community collection event since 2011. That may account for a drop in total collected weight after 2011, the document states.
As of last year, the number of participating manufacturers has remained steady, at 86. But the weight collected fell 40 percent from 2015 to 2016. One reason cited was lighter devices entering the end-of-life stream.
"This large discrepancy in collection totals, however, can be attributed to manufacturer collection programs declining," according to the report.
DEQ noted that one company that is both a retailer and registered manufacturer stopped accepting TVs, as other national and state collectors have done. While TVs aren't counted in Oklahoma's numbers, the move could have discouraged consumers from dropping off their old computers for recycling at the same time.
"Oklahoma's program continues to serve our citizens well; however, since its inception, the nature of wastes has evolved," the report concludes. "DEQ will continue to evaluate how to improve recycling options under the current statutory framework. We are also willing to work with legislative leaders to identify areas where improvements could be made to further increase recycling options for our citizens."
More stories about EPR/stewardship