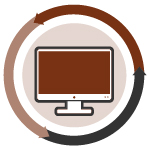 Observers notice a change in Apple's position on the right-to-repair movement, and the U.S. military spends $80 million to develop a new kind of computer chip.
Here to stay: The Internet of Things (IoT) is growing rapidly, and according to some experts, that trend is expected to accelerate. Environmental Leader writes about an IoT-focused discussion at its conference this month, noting that the popularity of IoT connectivity stems from the information it can provide.
Signs of a shift?: Apple has historically been opposed to the right-to-repair movement, but recent company decisions have some observers suggesting the manufacturer is inching away from that position. Motherboard points to several political, design and customer service decisions, as well as the company's recent choice to share iPhone-servicing equipment with a wider range of repair shops, as evidence indicating a changing company attitude.
Scrap study: A U.K. research project to assess barriers to increased recovery of raw materials from e-scrap is entering its next phase. Recycling International reports that recycling company Axion, which is overseeing the study, will focus on sortation, separation and recovery.
Material overload: An electronics collection event in Arvada, Colo. was forced to shut down early after receiving far more devices than organizers had anticipated. The Denver Post reports the event was supposed to last for two weeks but made it just six days before it was inundated with 200,000 pounds of electronics, as well as large quantities of paint and mattresses.
Military money: The U.S. military is working to develop a new kind of computer chip that could perform faster while handling large amounts of data. According to Engadget, the Defense Advanced Research Projects Agency, an arm of the U.S. Department of Defense, is spending $80 million to fund development of the project.