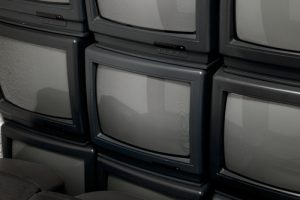 As information comes to light about widespread landfilling of CRT glass in California, electronics recycling standards R2 and e-Stewards are working to determine their next steps.
Leaders of R2 have hired an attorney to figure out whether California law is forcing firms to defy the standard's CRT glass recycling requirements. Meanwhile, e-Stewards is pushing for additional disposal regulations in the state.
E-Scrap News previously reported on the industry's widespread reliance on disposal to manage CRT glass in California despite company policies at odds with the practice. In 2016 alone, at least 60 million pounds went to landfill, state records indicated. That was more than three-quarters of all CRT glass handled by companies participating in the state program. Processor executives argued that recycling regulations and market realities in the state have left them with no other options.
And companies also maintained that R2 and e-Stewards, the North American industry's two key electronics recycling standards, are on their side when it comes to CRT glass disposal. All seven of the firms that disposed of at least 500,000 pounds of glass in 2016 are certified to at least one of the standards. Four of them maintain both certifications.
"I think they understand our situation," said Paul Gao, the owner of CEAR, which holds R2 and e-Stewards certifications. "It's just the limitations in California. It's impossible for us to have alternatives. We've tried."
Interviews with staff at e-Stewards and Sustainable Electronics Recycling International (SERI), which administers R2, indicate the issue of California disposal is a challenging one for them.
SERI awaits interpretation
According to John Lingelbach, executive director of SERI, the R2 standard prohibits the disposal of CRT glass unless one of two situations present themselves: no viable recycling options exist or regulations and/or laws require firms to resort to disposal.
Due to the "complex regulatory scheme" in California, Lingelbach said, SERI has hired an attorney to explore whether R2-certified firms are bound by law to resort to disposal.
"If the answer is yes, SERI will make it clear to auditors and recyclers that the practice is acceptable in California based on the R2 principle that legal requirements trump R2 requirements," Lingelbach explained. "If the answer is no, SERI will inform recyclers and auditors that the practice is not acceptable under R2."
Lingelbach said he expects a definitive answer from SERI's attorney within the next few months.
"Our opinion is still open," he added.
Storage approach suggested
The e-Stewards standard, meanwhile, currently allows disposal of CRT glass under certain conditions.
Jim Puckett, executive director of the Basel Action Network (BAN), which created e-Stewards, told E-Scrap News that the standard is "sympathetic" to the current situation facing recycling firms in California and beyond.
"We understand both sides of the debate – we know it's not black and white, or cut and dried," Puckett explained.
But Puckett also stated he believes landfills in California should be required to store CRT glass "in dedicated cells" for possible future retrieval and recycling. Kuusakoski, an e-Stewards-certified company, has championed that approach through a partnership with a landfill operator in Peoria, Ill.
"We like the fact that you can go back and get that stuff if you have the technology and economics in the future to justify it," Puckett said.
Puckett noted the standard has heard very little from certified companies in California or auditors regarding their disposal activities.
"Apparently, the ones that are using the disposal option have looked at the standard and said, 'Okay, this is something I can do' and they just started doing it," Puckett said.