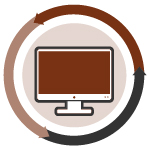 Washington's collection numbers continue their downward trend, and curbside e-scrap collection comes to an end in a South Carolina community.
Collection numbers: Washington state collected more than 2.3 million pounds of electronics for recycling in February. According to the latest report from the state's E-Cycle Washington program, the combined January and February collection weights are 80.6 percent of what was collected during the same period last year.
In the clouds: Information and communications technology spending in 89 countries will increase by 3 percent this year, according to a forecast by International Data Corporation (IDC). The market analysis firm found aggressive hardware purchases by cloud service providers will drive this trend, which outpaces the 2 percent growth in 2016.
Pick-up curbed: Residents in Charleston, S.C. will no longer receive curbside e-scrap pick-up beginning April 1. The Post and Courier newspaper reports the service has been offered since 2011, but the cost to the city has more than doubled since then and cancelling the program will save between $150,000 and $200,000 per year.
Battery roll-out: Battery stewardship group Call2Recycle will introduce a new all-battery recycling program to respond to growing consumer demand. According to a press release, beginning April 1 collection sites will have a menu of services they can choose from, including a pay-as-you-go, all-battery collection option.