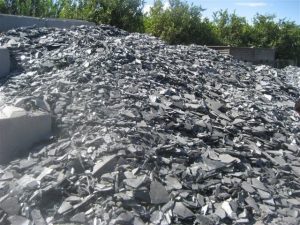 Firms active in California's electronics recycling program increasingly turned to landfill disposal for CRT material in 2016.
According to data supplied by the California Department of Resources Recycling and Recovery (CalRecycle), over 77 million pounds of CRT glass were handled by program participants in 2016 and 45 percent of that total – nearly 35 million pounds – went directly to disposal sites. Only 3.5 million pounds went to traditional recycling outlets, and much of the remaining glass went to intermediate processing facilities in California.
"Disposal has become the primary disposition from CRT glass generated in California due to a combination of changes in markets and strict California hazardous waste rules," Jeff Hunts, the program's manager, told E-Scrap News. "In the end, it's an economic determination by the processor/generator as to where the CRT glass (compliantly) goes."
Under California's program, recycling companies are reimbursed by the state once they've provided documentation that glass has moved to a compliant downstream outlet. The state currently pays 19 cents per pound for collection, consolidation and transportation of electronics. For those services plus receipt, processing and disposition, it pays 49 cents per pound.
The program is funded by fees consumers pay when they buy new electronics.
Disposal on the rise
Traditionally, glass could be sent to an established recycling outlet or an intermediary processor. Emergency regulations first passed in August 2015, however, also allow the landfilling of CRT glass as a third option for program participants to pursue in order to be reimbursed for their work.
Regulations currently allow non-leaded CRT panel glass to be sent to inert and municipal solid waste landfills, while leaded CRT funnel glass is permitted to go to hazardous waste sites.
Boise, Idaho-based U.S. Ecology, which has a hazardous waste landfill in the Los Angeles area, was the most popular disposal outlet during the year, receiving nearly 17 million pounds of CRT glass from recycling companies in the California program. CRT glass was also disposed of at a number of additional landfills, including those operated by Waste Management and Clean Harbors.
Meanwhile, regulations currently limit companies handling CRT glass to one of two traditional recycling outlets: lead smelters or CRT manufacturers. And CalRecycle's Hunts says neither option has been much of a draw of late.
"California processors generally do not have access to, or are unwilling to send glass to, Videocon, the only CRT manufacturer, [and] lead smelting access is limited," Hunts said.
Recycling a fading option?
In all of 2016, Videocon, once the most popular downstream outlet for California's abundant stream of glass, received just 11 shipments of CRT glass. The Indian technology company received a total of 465,864 pounds of glass from California, with nearly all of the shipments occurring during a brief period in June.
Videocon's operational status has been up in the air in recent years. E-Scrap News first reported the firm had shut down its furnaces in Bharuch, India for maintenance in October 2015 before briefly turning them back on in 2016. Hunts did not have any official update on the operation.
Smelters, meanwhile, provided limited relief for firms looking to divert CRT glass, data shows.
Missouri-based Doe Run received 712,708 pounds, while Canada's Glencore received 453,387 pounds. A Korean smelting outlet new to the U.S. CRT glass market, Korea Zinc, received 1,916,588 pounds of CRT glass in late 2016 from one California supplier.
Glass that did not go to either traditional recycling outlets or disposal sites was typically sent to a handful of intermediary processors in the state capable of breaking, cleaning and testing CRT glass, according to Hunts. State regulations do not require those firms to report on where CRT glass is ultimately sent for disposal or recycling.
Hunts also noted firms have thus far only tentatively explored alternative recycling outlets beyond smelting or CRT manufacturing. Using an alternative outlet, such as the tile manufacturing business operated by Camacho in Spain, would require state approval.
"The optics of disposal in a program that was seemingly enacted to promote recycling can be challenging," Hunts said. "CRT glass is just one of several treatment residuals that have encountered market complications. Factor in regulatory limitations, and compliant recycling markets may be out of reach regardless of how much money is thrown at the issue."