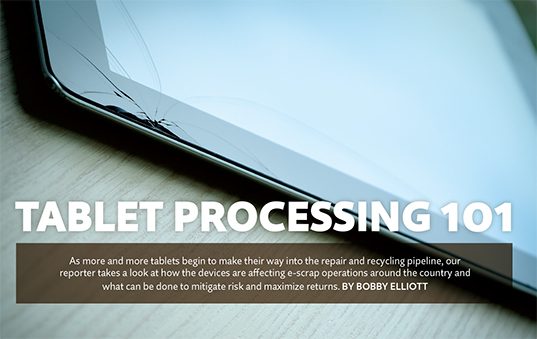 This story originally appeared in the December 2016 issue of E-Scrap News. Subscribe today for access to all print content.
Chances are pretty good that you or someone you live with has purchased a tablet since the release of Apple's iPad in 2010.
A variety of manufacturers are marketing the devices, and a wide range of industries, including the military, medical and education sectors, are increasingly transitioning to the technology.
But e-scrap companies will tell you they're not always easy to repair or recycle.
The use of adhesives to secure tablet parts and components is the bane of e-scrap companies aiming to refurb and resell the devices. Having access to quality, affordable replacement parts is also an issue.
And when it comes to recycling the lightweight and compact products, revenue and safety obstacles are significant. Processors are grappling with lengthy manual disassembly processes, low scrap value and the possibility of batteries combusting at any moment.
"That's a significant issue for us from a worker-safety standpoint," said Craig Boswell, president of mobile-focused processor HOBI International, which is based outside Chicago. "You have the battery adhered to the device and … typically you're going to have to use some type of prying action and in that process you either puncture the battery or you bend the battery and you can cause the battery to ignite."
A quick rise to prominence
According to the Washington, D.C.-based Consumer Technology Association (CTA), 370 million tablets have been bought by consumers in the U.S. to date. To put that number into perspective, CTA estimates the U.S. household tablet penetration rate – the percentage of households with at least one tablet – has gone from 8 percent in 2011 to 56 percent in 2016 (see chart below).
Meanwhile, the Pew Research Center's most recent U.S. Technology Device Ownership report estimated that 45 percent of U.S. adults owned a tablet as of 2015, up from 13 percent in 2011. At the same time, the study found plateauing computer ownership, with an estimated 73 percent of Americans owning a desktop or laptop in 2015, up just 2 percentage points from 2004.
And it's not only consumers that have begun transitioning to tablets and "two-in-one" devices featuring detachable keyboards. The New York Times reported in August of 2016 that nearly half of all iPads are now bought by corporations and government in the U.S. and tablet usage is also on the rise at schools across the country.
Tablet usage is also becoming more common elsewhere. Doctors now use them during surgery, the Army actively uses them to assist in combat operations, and restaurants are utilizing them to replace traditional paper menus.
But with some tablets selling for as little as $50 and the average life span of a tablet at around five years or less, tablets are also beginning to find their way into the hands of e-scrap companies throughout the nation.
Identifying profit potential
Almost any e-scrap or refurb company will tell you the first step in handling tablets is figuring out exactly what you've got. And the chances of being able to repair and resell tablets can vary widely depending on the condition and make of the devices.
Take Mesa, Ariz.-based ER2 as an example. According to founder Chris Ko, the company isn't seeing many tablets from corporate clients, but it has been able to partner with schools and product-leasing companies to garner mostly high-end, gently used iPads to refurb and resell.
"We see a lot of those, and we pay for them," Ko said. "I think that's the biggest thing: being able to buy it directly from schools or leasing companies."
Despite repair obstacles, the vast majority of tablets ER2 sees are fixed and resold. Ko estimates about 75 to 80 percent of ER2's repaired devices find a home in the U.S., and the remainder make their way to India and the Middle East, where he says the market for refurbished Apple products is "very, very strong."
That robust market is something HOBI's Boswell also pointed to as a big advantage for companies that are able to repair the tablets they're getting.
Boswell says roughly 60 percent of the tablets HOBI receives get repaired. He said demand for those devices is sky-high both domestically and abroad due to the current lack of price subsidization by carriers. While Verizon, AT&T and others have been quick to subsidize the cost of smartphones, they have been hesitant to do so for tablets, which can cost as much as $2,000 a piece.
"People are looking for that more cost-competitive, refurbished device," Boswell said. "We do a lot of domestic resale for tablets, we have our own retail presence online, we supply some retail stores directly and we do some overseas sales as well."
At the same time, the make and condition of used tablets doesn't always allow for such high repair and resale rates.
A representative of Dynamic Recycling, a processor headquartered in Onalaska, Wisc., said roughly 95 percent of the tablets the company receives are not worth repairing and end up getting scrapped and the commodity material recycled.
While tablets from Apple, Microsoft and other big-name original equipment manufacturers (OEMs) might be worth repairing, Dynamic is not seeing many of those.
"What we're really finding is that not many tablets are holding their value," said Amanda Buros, Dynamic's wireless device coordinator. "Anything that falls into off-brand or lower-end, generic tablets, there's no or very little resale or marketing value there."
'All about the glue'
The process of repairing high-end tablets can be time-consuming and costly.
Repair hub iFixit has rated 36 tablets based on their repairability since 2010 and only one – HP's Elite x2 tablet, released this year – has received a perfect score of a 10 out of 10. What's more, 22 of the 36 devices have received a score of a 6 or lower.
With the exception of Apple's first-generation iPad, which notched a score of 6, all other iPad models have received a 3 or lower. Three of the Microsoft Surface models have been awarded a 1.
"The biggest challenge is thin glass and glue," said Kyle Wiens, iFixit's founder.
According to Wiens, tablet manufacturers, including Apple and Microsoft, are using glue to fasten not only the glass and battery to the devices, but also a wide range of other internal components. While the glue approach helps OEMs keep devices thin – a chief selling point over computers – it forces repair technicians to use heat to remove the adhered parts, a process that can easily damage working parts and slow down repair efforts.
Boswell from HOBI said repairing a tablet can take upwards of 30 minutes. In addition to liquid damage and locked devices posing repair obstacles, Boswell said that adhesive use is a challenge "pretty much across the board."
Robin Ingenthron, the CEO of Good Point Recycling in Middlebury, Vt., added, "It's a question of the glue. It's all about the glue. It makes it less repairable."
Wiens noted OEMs could be using clips and screws to fasten parts and components in place instead of glue but that would make them thicker.
"You have this trade-off," he explained. "Do you want to keep this same durability and make it slightly thicker in exchange for making it recyclable and repairable, or do you make this as thin as possible? And Apple's direction of their design team for a very long time has been, 'We couldn't care less if it's recyclable or repairable; just make it thin.'"
Apple, which iFixit has criticized repeatedly for "excessive adhesive" use, did not respond directly to questions regarding the company's tablet design.
However, in a statement, Apple told E-Scrap News the following: "Our products feature the most advanced technology, and incredible precision goes into building them. There's a whole lot more to iPad's incredibly beautiful and responsive display than just a piece of glass. This is why it's so important to ensure the entire display module is repaired correctly, through Apple-certified experts and using genuine Apple parts."
The large Apple iPad Pro, which was released in November 2015, featured adhesive pull tabs on the battery, which allows repair technicians to easily and safely remove batteries without having to pry them off the base of the product. The device, however, still scored a 3 and out 10 for repairability on iFixit. The small iPad Pro, which was released in March 2016 and lacked pull tabs altogether, earned a 2 out of 10.
Beyond adhesive use, parts availability can also be a roadblock to repairability.
With the exception of HP and Dell, which sell individual parts for their tablets, OEMs don't provide individuals or repair teams with parts, Wiens said. "You have to scrounge out there in the market," he said.
Boswell at HOBI noted there are around a half-dozen domestic parts suppliers in the U.S. that feed e-scrap companies in the U.S. Many of the parts are manufactured overseas, he said.
"If you can get the part at a competitive price, then it makes a lot of sense to go ahead and repair the device," he said.
The ins and outs of recycling
It's not only the repair industry that is currently facing hurdles in managing tablets.
Processing companies looking to earn revenue through recovering commodities in tablets are also encountering difficulties. Due to the lithium-ion batteries in the tablets, the rule of thumb at present is to resort to manual processing to successfully remove and sort out components.
Rafael Reveles, the engineering and technical director at Sims Recycling Solutions, which has processing sites around the globe, said the company handles tablets both from the consumer market and business-to-business clients. He says the processing costs associated with manually handling tablets can be "quite high."
"It really comes down to how do I take it apart safely and, secondly, how far should I go so I can maximize my return on any commodity value," Reveles explained.
Miles Harter, the president of Dynamic Recycling, said that removing adhered batteries is often the trickiest part of the process due to the possibility of fires and the cost-intensive nature of the job.
"There's so much work with the batteries," Harter told E-Scrap News. "If we can't do it in 15 minutes, the value is definitely going to be negative."
Harter said the company is looking into the possibility of sending whole tablets to smelters as one way of streamlining the process and cutting down on manual labor and safety concerns.
In addition, Fresno, Calif.-based processor ERI in 2014 provided the Green Electronics Council with an estimate that it loses $0.50 per pound recycling tablets.
Fires caused by punctured batteries are also a significant safety issue for workers.
Boswell from HOBI called such incidents a "big risk" for the company's employees. Wiens at iFixit added, "Most recyclers will tell you they have a fire every week or so."
Buros of Dynamic said she thinks processors aren't always recycling tablets right away either.
"A lot of people are just sitting on this material right now because there's a bit of an unknown in … how these devices can be handled," Buros said.
The tablet stream of today and the future
In a report released earlier this year, the National Center for Electronics Recycling provided some of the first estimates on the current and future tablet stream in the U.S.
The report, produced for the Closed Loop Foundation, suggested that the average life span of a tablet was holding steady at about five years.
What's more, the report estimated that the overall e-scrap stream in 2015 consisted of 685 million individual assets. Of that total 19 million, or 2.8 percent, were tablets. Projecting 2020 generation, the report suggested 846 million devices would enter the stream, with 49 million, or 5.8 percent, being tablets.
As those figures make clear, tablets will never dominate the e-scrap stream in the U.S. At the same time, they also point to the fact that e-scrap companies will be seeing more and more of them.
"If you're a traditional ITAD service provider, I think it's becoming more and more difficult to not at least have some rudimentary competency in the tablet market," HOBI's Boswell said.
How that stream will affect the industry might depend on how OEMs respond to some of the critiques of the repair and recycling community – assuming those critiques are heard at all – and how the e-scrap industry pushes ahead the processes in place to handle them.
Wiens at iFixit noted OEMs can make meaningful design changes if they choose to. As a case in point, HP's Elite x2 tablet did away with adhesive use altogether and is instead resorting to simple screws to fasten parts in place.
"Product designers know how to make a battery that's removable and recyclable," said Wiens. "They're just not being allowed to by the businesses."
On the recovery end of things, processors will also continue to look at ways of streamlining recycling activities, including exploring automation, said Harter of Dynamic.
"The more volume we start to get in, the more we'll be focused to make it a lot more efficient," Harter said.
Bobby Elliott is editor at large for E-Scrap News. He can be contacted at bobby@resource-recycling.com.