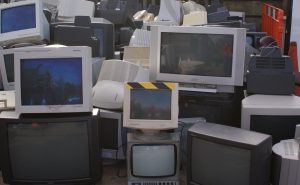 Two familiar pieces of legislation under consideration in Illinois aim to promote CRT glass storage, but they take different paths toward that goal.
The idea of storing CRT glass in dedicated cells at a landfill was first proposed by Illinois-based company Kuusakoski US several years ago. The company began placing the material in storage cells in 2015 at a landfill owned by Peoria Disposal Co. (PDC) in Peoria, Ill.
In Illinois, the recently introduced House Bill 772 would prohibit accrediting agencies, such as R2 and e-Stewards, from "penalizing or taking other negative actions" toward any company that works with a facility using the CRT glass storage cell process.
The law would also explicitly state that facilities accepting CRT glass in storage cells for future retrieval do not need accreditation. An identical bill was passed by the Illinois House during the 2016 session, but it died in committee at the Senate level. Last year's effort drew fire from a number of e-scrap industry members.
House Resolution 68, meanwhile, takes the softer approach of "urging" the Basel Action Network's e-Stewards accreditation program to change its standard. The resolution, which was previously passed by the Senate in 2015, officially endorses a petition submitted by Kuusakoski and PDC in 2014. The petition asks that the company's CRT glass storage process be considered as a "preferred" CRT glass management option under e-Stewards accreditation.
Currently, e-Stewards considers that management option a measure of "last resort."
The R2 standard prohibits its accredited recycling companies from working with facilities that use the CRT glass storage cell process.
Both pieces of legislation were sponsored by Rep. Jehan Gordon-Booth (D-Peoria), whose district includes PDC's operations. The legislation has been assigned to House committees.
The Senate equivalents are Senate Bill 774, which has been assigned to the environment and conservation committee, and Senate Resolution 128, which is awaiting assignment. Both were sponsored by Sen. David Koehler.
In the electronics recycling market in recent years, CRT glass has become a costly material for many recycling entities to handle. Kuusakoski's storage concept has been presented as an option to ensure glass does not end up abandoned in warehouse, and the company has said the material could be retrieved once more markets are developed for leaded CRT material.
Opponents to CRT storage say they cannot envision additional market development unfolding in the future.
Mel Nickerson, a lobbyist and consultant on recycling issues who has worked for the Illinois Recycling Association, offered his take on one of the pieces of legislation now being considered.
"As drafted, House Bill 772 would weaken national electronic recycling accreditation standards and potentially create an Illinois monopoly on the CRT treatment process and disposal location," he said.