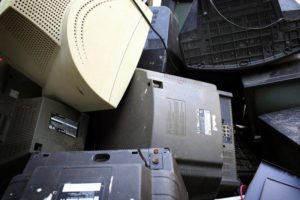 A south Florida nonprofit group that trains and employs people with disabilities is closing one of its e-scrap drop-off facilities as it adapts to a changing market.
ARC Broward IT Asset Recovery will close its collection space in Sunrise at the end of the year. It will still collect items at its main warehouse and production facility 10 miles away in Fort Lauderdale.
ARC Broward IT Asset Recovery opened its 25,000-square-foot Fort Lauderdale facility three years ago when it ran out of room in Sunrise. Julie Price, vice president of programs services, said since then, fewer people have been utilizing the Sunrise drop-off center and it doesn't pencil out to keep it open.
"It was really a change in the industry generally," she said. "We struggled with commodity pricing and changes that were taking place."
She prefers customers visit the main facility anyway, so they can meet the people who are being trained and see the business in action.
ARC Broward IT Asset Recovery started 16 years ago as an e-scrap recycling entity. The organization has now shifted its operations to refurbishment, retail, IT asset management and recovery disposal type of services.
ARC Broward IT Asset Recovery also had a contract with Broward County to take in e-scrap, but the nonprofit group lost that contract when the county decided to no longer offer the service to residents.