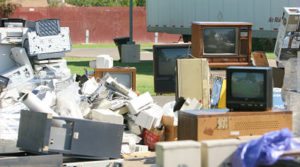 New Jersey lawmakers will decide today whether to move a bill that would beef up the state's e-scrap program out of committee and onto the General Assembly floor for a vote.
The eight-member Assembly Appropriations Committee is expected to convene this afternoon to discuss the merits of Assembly Bill 4763 (A4763). The Association of New Jersey Recyclers (ANJR) has called on members of the recycling community and municipalities to testify in support of the legislation, which would dramatically reshape the Garden State's e-scrap program.
"We need everyone to come out and support the bill," ANJR wrote in an email to supporters and members of the electronics recycling industry this week.
At its core, A4763 would allow the New Jersey Department of Environmental Protection (DEP) to set annual collection quotas for manufacturers "based upon the total weight in pounds actually collected in any program year." The current program allows DEP to set annual collection goals, but, according to A4763's supporters, those goals have failed to reflect how much material is being dropped off at collection sites in a given year.
Various media outlets have reported on manufacturers meeting their current goals mid year in New Jersey and abruptly cutting off funding to communities still receiving electronics in need of recycling. Those communities and the e-scrap companies serving them have been forced to foot the bill themselves or cut back services.
A4763 would also expand the list of covered devices under the state electronics recycling program, adding items such as printers and fax machines, and require the coverage of scavenged electronics.
If the committee opts to support the measure, it would go to the Assembly floor for a vote. An identical bill, Senate Bill 2973 (S2973), is already awaiting a vote on the Senate floor.
In March, E-Scrap News reported discussions were underway to put forward legislation that would alter New Jersey's program. In June, Sen. Bob Smith introduced S2973, with its Assembly counterpart, A4763, introduced last month.
Both bills would need to pass their respective chambers before moving on to the desk of Republican Gov. Chris Christie.